TOP REASONS TO EAT AT BEN GUI SUSHI
Ben Gui Sushi is dedicated to serving top quality sushi and the freshest fish for the Roanoke Valley.
The staff is knowledgeable, helpful, friendly and eager to provide professional service.
The atmosphere is comfortable and relaxed with potential for quaint dinners or large parties.
Ben Gui Sushi was voted "Best Sushi" in the Roanoke area for the last three years.
The "Red Dragon" one of Ben Gui's signature rolls, was voted one of the "50 Favorite Foods" by the readers of the Roanoke Times.
The prices are competitive for top quality sushi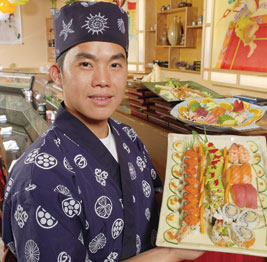 Ben Chen... Restaurant owner and
Executive Sushi Chef -- Trust Me
About Us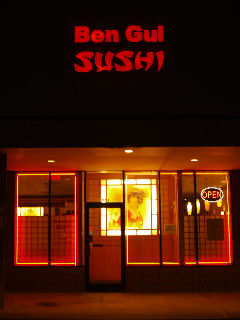 Ben Gui Sushi is located in
Old Country Plaza, to
the left of Tanglewood Mall
Ben Gui Chen has been making sushi in the Roanoke Valley since 2000. Then in 2006 Ben branched off and opened his own restaurant. Starting with only his wife and a couple staff, Ben has definitely found his place in the Roanoke Valley and raised the mark for quality sushi and Japanese cuisine.
Now these many years later, Ben Gui Sushi is still raising the mark creating unique sushi items with the same quality fish and influences from around the world. Ben himself has taken on the motto "Trust Me", a risky move for the already leery Roanoke natives. Ben believes the best meal he can create for his customers is the meal that he himself creates personally for each individual. He highly recommends that you take an evening to sit and enjoy a meal at his bar, or at a table, and trust him to play you a symphony of tasteful treasures that your mouth will sing to.
For those customers who want to make an evening of Sushi, Ben has worked with his staff to create a 5 course sushi and sake tasting menu that will expand your knowledge of Japanese cuisine. You will be entertained by the 5 courses of unique sushi items with detailed descriptions and optional sake pairings for every course. Currently the tasting menu is by reservation only and is available on Thursdays and Saturdays.
Whether you are coming to enjoy a simple roll or make a night of sushi, Ben Gui Sushi is the number one location to bring your family, friends or business associates for quality sushi. Ben Gui is also great for a quick lunch, carry out items or catering. Give them a call today for your reservation or order. If you can't find something on the menu that you have had somewhere else, Ben says he can make it, and maybe even better.
Sign up for the newsletter and get updates on new items and the freshest fish to be delivered to the restaurant on a weekly basis.
Driving Directions from 581
Take the VA-419 / US-220 exit toward Franklin Rd.
Turn Right at Electric Rd / VA 419
Turn Right at Ogden Rd.
Turn Left at Starkey Rd SW
We are located in the Old Country Plaza on the right hand side.